Xfce4 Screenshooter news
During the last few days, I found some time to improve Xfce4 Screenshooter and implement some new features.
Interface
The interface has been slightly improved, it should be more user friendly and take less space. I also added an option allowing you to chose whether the mouse pointer should be displayed on the screenshot.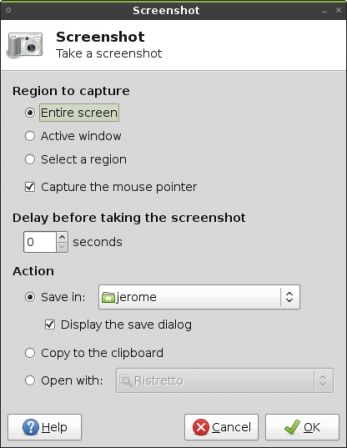 Improved 'Region' mode
When selecting a region to be screenshooted using the mouse, you can now use the Escape key to cancel the operation.
Saving screenshots to remote locations
It is now possible to save screenshots to remote locations such as FTP, computers accessible via SSH, a Samba shared folder... The window below is displayed to show the progress of the upload and to cancel it.

This is totally transparent for the user. Remote locations connected with Gigolo or gvfs-connect are automatically available in the save dialog, as any other local folder.
I still have to update the documentation for those new features and to improve various other points, a new release might be out in May.